Junior Church & Creche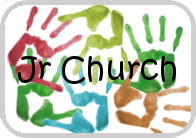 Junior Church and Crèche are available on the 1st, 3rd and 4th Sundays during the Morning Service.
3rd Sunday is our Communion service: The children go straight to their group at 10:30am and join the service later on for communion.
Creche is for children under 5, Junior Church is for children aged 5-11
At Junior Church we value:
Discipleship - Seeing the children growing in the faith and living it out in their lives,
Relationship - Children are so important in the church; we value the time we spend with them, what interests them
and who they are,
Activities - We aim to organise activities which inspire and engage with your child according to their age and learning style
and importantly- which are FUN!
Worship - Jr Church is just as much part of the Camborne Wesley's worship as any part of the church, at Jr Church we
value our relationships with God; we pray together, sing and dance together and talk together about faith.
Our values spell our DRAW. Because Jesus wanted the little children to draw close to him. Luke 18:16
Need more information? Email This email address is being protected from spambots. You need JavaScript enabled to view it. or come into the Church Office Monday- Thursday 9:30am-4pm